Create Content For Your WordPress Website Like A Pro
Discover How To Use Your WordPress 5.x Content Creation Tools!
Attention: Coaches, Authors, Speakers, Creatives, and Entrepreneurs…
In order to increase your presence online you need content. Lots of great content. With each new update creating and publishing content using WordPress has got easier if you know your way around the software. However, time is money and unless you know how to add your content quickly to your WordPress website you could be stuck doing it all day. Think how much better it would be if you knew the different items within your WordPress site that allowed you to create your content quickly and easily. 
I'm Anne Elizabeth Perez and I have been creating websites for myself and clients for more than 10 years now. When I was a makeup artist I was looking for ways to 'get known'. I live in a rural area in the South West of England and I knew that I wouldn't 'meet' enough people there to have a successful business. The answer was to build an online presence. I needed a website. I set about to learn as much as I could about building a website and discovered WordPress. Once I figured out how, and built a website my business began to grow exponentially. In fact, I was amazed how many people 'found' me online. People started to ask how they could have the same results and I helped them build their own websites. Now I want to teach you how to do the same exact thing with my new " Create Content for your WordPress website" training course.
A True, No Nonsense, Complete Blueprint
I'm going to give you a true no nonsense, complete blueprint literally anybody - no matter the experience or skill level - can understand and use to create content with WordPress. This is as close to a "total-beginner-proof" system you'll ever find. Included in this package is a guide introducing WordPress and outlining key features to help you create content for your business. In addition I've asked my technical assisant to produce some videos and he will give you the best time saving shortcuts that you'll not see anywhere else.
Discover Tips & Shortcuts That Will Make You A
WordPress Content Creation Master
Some WordPress gurus want you to believe it takes time to learn how to use these tools on your own. But I'm here to tell you it doesn't take much time at all. I'm so sure of it AND I'm going to guarantee it. Now you can have access to the guide and this ENTIRE Set Of Easy To Follow, "Do-This-Then-Do-That" Step-By-Step Videos today... These extremely revealing videos cover everything you'll need to begin creating content on your own WordPress site (or your clients site) immediately after you're done watching. Don't let your inexperience or lack of knowledge hold you back... The time to make your web presence known is now! And these videos are some of the best videos ever produced to get you started fast. These WordPress training videos are simple, unique, and easy to follow. Each one created with YOU in mind. These videos reveal some of the BEST shortcuts, tips and methods anyone can use to create and publish content using WordPress. These Tips & Shortcuts Can Be Yours INSTANTLY!
Created With The Total Beginner In Mind
The guide and these WordPress training videos were created with the total beginner in mind. Zero Geek-Speak, very detailed & fluff-free! This allows you to learn more in a shorter amount of time while enjoying what you are learning. Sure beats trying to learn from outdated, hard to understand videos you stumble across on the web. 
When you watch & apply what you've learned from these WordPress training videos, it's virtually impossible to fail - I Guarantee It. You just have to reach out and grab it.
So, How Much For All For This?
So how much is it going to cost me to get my hands on the guide and these over-the-shoulder-style WordPress How To Videos? This package sells for just $27. The guide and WordPress Video tutorials will be available straightaway so no waiting to begin. With these over-the-shoulder style videos, it is just like I was there sitting at your computer with you but with these videos, you will not have to pay the one on one coaching costs. 
It doesn't matter if you are 'technically challenged'.
With the written guide and these step-by-step video guides, discover:
How the Gutenberg editor affects existing content
What the difference is between Pages and Posts
Your Media Library - How to add, edit and manage your files & which files you shouldn't add
How to create a quick & professional looking Contact Us page (FREE Plugin)
Video 12 shows you where to safely download FREE Plugins
Creating a playlist on your post or page is EASY after watching video 11
Let's Take A Closer Look At What You Are About To Receive...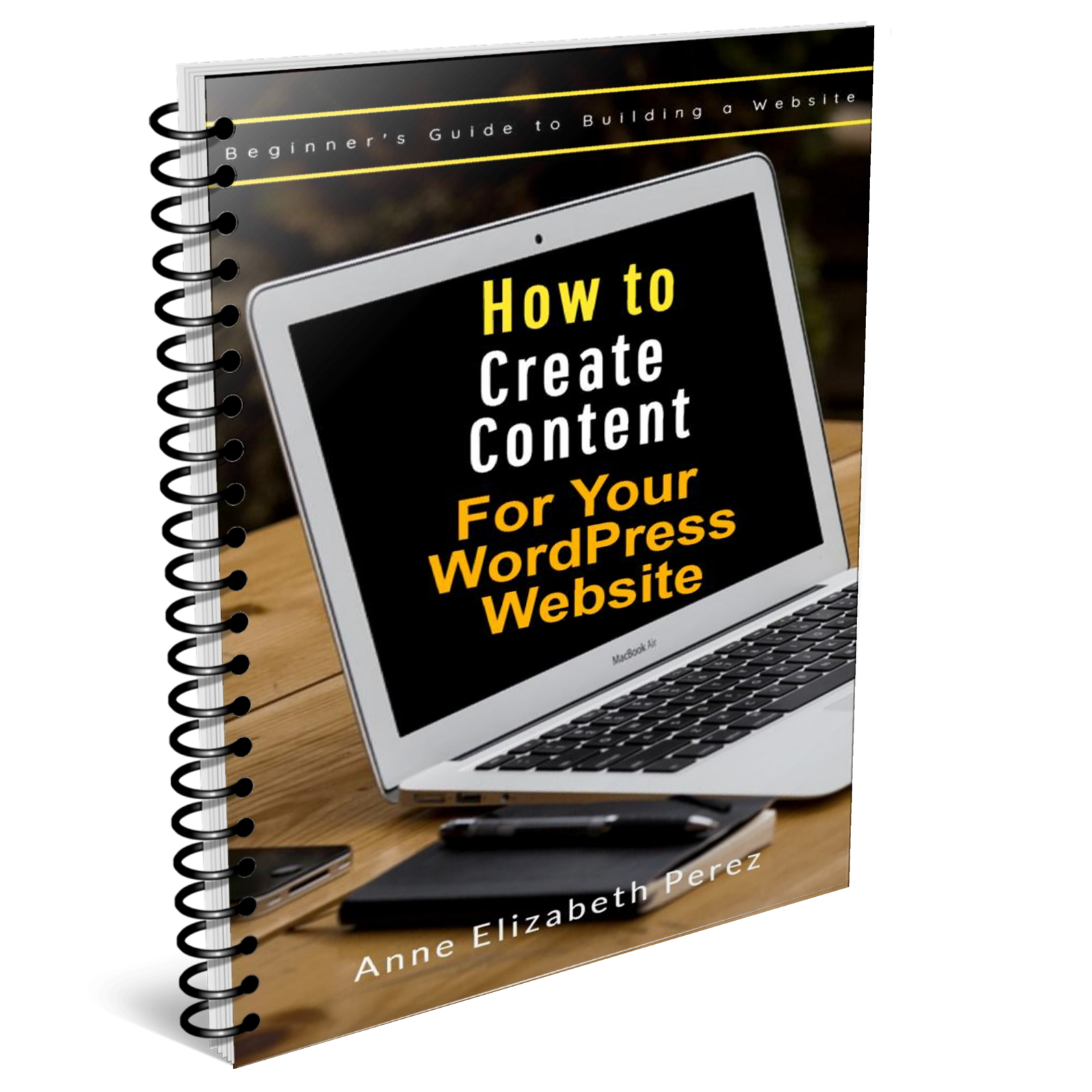 How to Create Content for your WordPress Website
Now Is The Time For You To Begin Creating & Publishing ContentOn Your WordPress Site Like A Pro. The guide and these WordPress training videos were created with the total beginner in mind.
These WordPress training videos are simple, unique, and easy to follow. Each one created with YOU in mind.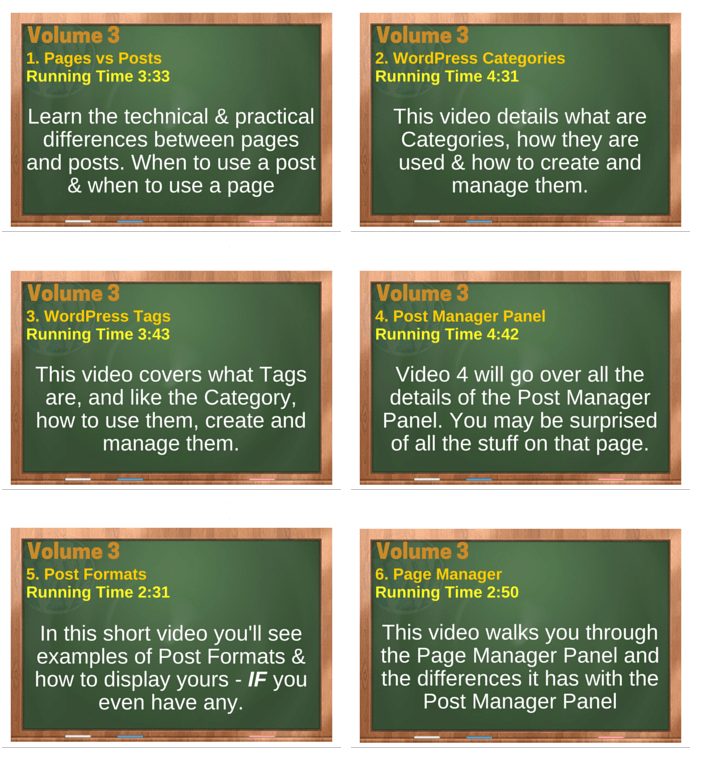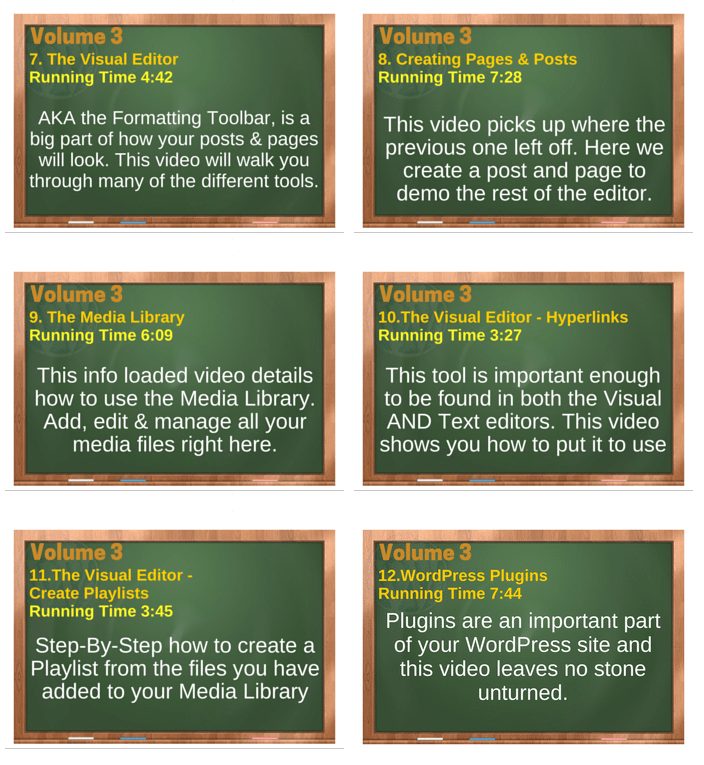 Example Curriculum
Available in days

days after you enroll

Content Creation with WordPress Videos
Available in days

days after you enroll

How to create content for your WordPress Website
Available in days

days after you enroll

Next Steps
Don't wait any longer - you can get started NOW
Now Is The Time For You To Begin Creating & Publishing Content
On Your WordPress Site Like A Pro


What Others Have To Say About Me…
"I love how you've laid it all out so clearly and simply"   Willena Flewelling
" It's great to be up on the latest technology...What a great way to communicate with customers"   Diane Cook
"I am glad there are people like you in this world who can make sense of all the changes that are happening. There is so much information begin thrown around you are never quite sure what is important to pursue and what isn't. " M. Joyce
"You did a fantastic job outlining the features ... how we as business owners can beef up our customer engagement" Laura Morris
" Thanks for sharing that resource... That's awesome" K de Roo
"I'm really enjoying how you are educating me in the marketing mindset" Steve