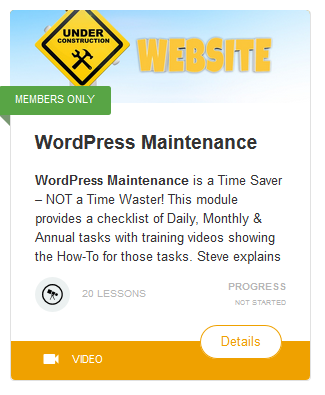 THE Ultimate Guide To WordPress Maintenance 
WordPress Maintenance  is a Time Saver – NOT a Time Waster
Attention: Coaches, Authors, Speakers, Creatives, and Entrepreneurs…
You've finally created your WordPress site and are now figuring out what to blog about first, or which product to promote or sell. However, have you put a Site Maintenance process in place or are you waiting until things break? I hate to say it but in addition to creating your beautiful WordPress website, you ALSO need to have a Site maintenance process in place. The last thing you want, and I speak from experience, is for something to break just when you have spent so much time and effort encouraging visitors to come to your website. 
Your website might be hacked
The site's plugins might stop working with each other, 
Updates can go wrong,
Your entire site may go down 
Ouch...
I'm Anne Elizabeth Perez and I have been creating websites for myself and clients for more than 10 years now. When I was a makeup artist I was looking for ways to 'get known'. I live in a rural area in the South West of England and I knew that I wouldn't 'meet' enough people there to have a successful business. The answer was to build an online presence. I needed a website. I set about to learn as much as I could about building a website and discovered WordPress. Once I figured out how, and built a website my business began to grow exponentially. In fact, I was amazed how many people 'found' me online. People started to ask how they could have the same results and I helped them build their own websites. Now I want to teach you how to do the same exact thing with my new " WordPress Website Maintenance" training course.
A True, No Nonsense, Complete Blueprint 
I'm going to give you a true no nonsense, complete blueprint literally anybody - no matter the experience or skill level - can understand and use to keep your WordPress site running in tip-top shape with your own Maintenance program. This is as close to a "total-beginner-proof" system you'll ever find. All you have to do is push play, then watch and do what he does. I've asked my technical assisant to help produce these videos and he will give you the best time saving shortcuts that you'll not see anywhere else. Some WordPress gurus want you to believe you need to hire someone to to do your site maintenance. But I'm here to tell you...
You Can Do This
There's no need to pay these so-called gurus hundreds or thousands of dollars for what you can do yourself. Trust me, you can. I'm so sure of it AND I'm going to guarantee it. Now you can have access to this ENTIRE Set Of Easy To Follow, "Do-This-Then-Do-That" Step-By-Step Videos today... These extremely revealing videos cover everything you'll need to develop a WordPress Maintenance Process for your site (or your clients site) immediately after you're done watching.
Now Is The Time For Your Very Own WordPress Maintenance Programme For Yourself Or Your Business
Don't let your inexperience or lack of knowledge hold you back... The time to make your web presence known is now! And these videos are some of the best videos ever produced to get you started fast. These WordPress training videos are simple, unique, and easy to follow. Each one created with YOU in mind. These videos reveal some of the BEST shortcuts, tips and methods anyone can use to craft a custom WordPress site Maintenance program. These Tips & Shortcuts Can Be Yours INSTANTLY.
So, How Much For All For This?
So how much is it going to cost me to get my hands on these over-the-shoulder-style WordPress How To Videos? For a single payment of $27 your WordPress Video tutorials will be available for instant download so no waiting to begin maintaining your WordPress Site. With these over-the-shoulder style videos, it is just like I was there sitting at your computer with you but with these videos, you will not have to pay the one on one coaching costs. Plus I've removed all the risk from the equation with my…
100% 30-Day Money Back Satisfaction Guarantee
I am 100% confident you will be absolutely delighted with everything you are about to discover, but just in case…
You are fully covered by my iron clad, no quibbles satisfaction policy, which means if you are not totally delighted with this programme you will get a prompt and courteous refund. All I will ask from you is to give it a genuine try – how easy is that?
It doesn't matter if you are 'technically challenged'.
With these step-by-step video guides discover:
Where to find (or create) error logs & what to do with them.
The two types of WP Core updates and why only one should be used immediately
Several FREE site health testing services and which I use.
How to locate broken links on your site and what to with them when found.
Different methods to clean up your Database.
Let's Take A Closer Look At What You Are About To Download...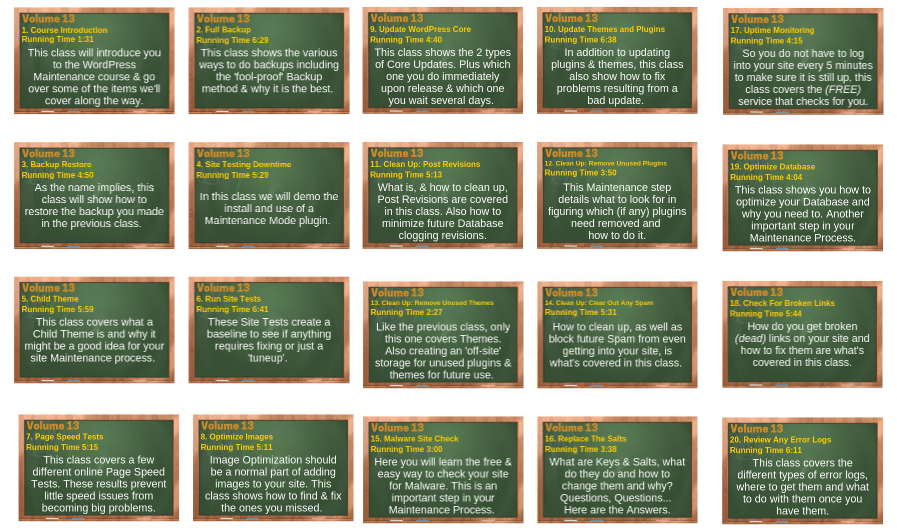 Let's get that WordPress website maintenance programme started. The time to make your web presence known is now.
And this package will help you get started fast.
Example Curriculum
Available in days

days after you enroll

How to Maintain Your WordPress Website
Available in days

days after you enroll

What's next?